NASFAA Virtual Conference 2023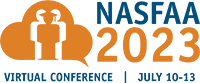 Planning for the 2023 NASFAA Virtual Conference is underway!  Virtual training opportunities have grown leaps and bounds in the wake of the pandemic and NASFAA intends to build on that momentum. The NASFAA 2023 virtual conference will feature the same great aspects of the national conference you've come to know and love, but in a 100% virtual format. The content will consist entirely of unique sessions not offered at the NASFAA 2023 in-person conference <https://www.nasfaa.org/conference>  to be held two weeks prior in San Diego, CA. 
Where: 100% virtual. Tune in live as sessions take place, or watch the on-demand versions of recorded live sessions as they become available. 
Who Can Participate: As a thank you to NASFAA members for their continued support of our organization, NASFAA is offering registration exclusively to institutions and organizations that are current NASFAA members. Registration <https://www.nasfaa.org/virtual_registration>  for this event is  institutional rather than individual, so for the low cost of just $300, everyone on your NASFAA roster can participate.